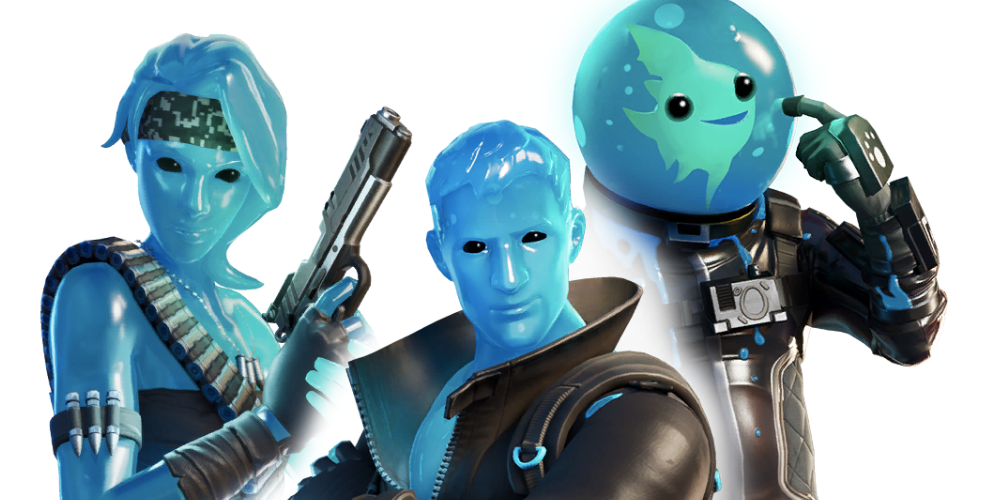 Fortnite is perhaps the only game where you can meet many celebrities and even play as them. Many of them are so loved by the players that the developers return them in the form of special offers. This October, you can see Dwayne Johnson again as his character from the upcoming Black Adam superhero film.
To promote the new movie, Fortnite has made another collaboration with The Rock and is adding a new actor skin in a black latex suit with huge lightning to its collection. You won't need to complete any quests and do complex maneuvers to get it. You can just buy it from the store with V-Bucks. In a short video preview, they showed two different variants, so it may be possible for players to have alternative versions of this skin available.
While we're all looking forward to getting to know Dwayne Johnson's new look both in the game and in the movie, let's take a look at other skins that are perfect for the Halloween season.
1. Big Mouth
This creepy skin is part of the larger Fearsome Freaks Kit. As you probably understand from the name, its distinguishing feature is a giant mouth with sharp teeth and a long tongue. It occupies almost the entire head and the upper body. It usually comes with the Council of Frogs, Toothsome Wrap, and Gnashers. By the way, related products have multiple styles, so you can make your character unique. This item returns to the store regularly, and there is every reason to believe we will see it again this October.
2. Mincemeat
A meat pie got arms, legs, and a creepy smile and went to defeat enemies in Fortnite. Just what you need for Halloween! The liquid flowing out of the cracks, either meat gravy or thick blood, gives the skin a unique horror vibe. Constantly buzzing insects over its head suggests that something inside it is rotten. It was last seen in the game this spring. Of course, you can buy other cosmetic items with it (the Baker's Nightmare batch), but Mash-Mincers butcher's axes deserve special attention.
3. Frankenstein
Frankenstein's Monster is a beloved classic, and it's hard to imagine Halloween without it, especially in Fortnite. The last time players saw this green monster was in October last year. Given its popularity, we hope the developers will return it to the store this time. There used to be two versions of the outfit to choose from, classic (a huge green man in a brown jacket) and black and white (like in old horror films). It came with a weapon and a shovel, but gamers liked the brains in the jar floating in some kind of slime.
4. The Skull Trooper
The name of this skin speaks for itself. You get a soldier in combat gear, painted like a skeleton. It is one of the oldest themed outfits in the game, which was first shown back in 2017. It seems to be nothing special, but it looks stylish. Players used to have as many as four versions of this skin at their disposal, which glowed in different neon shades. These alternative options were only available to those who had previously participated in Fortnitemares. We assume the developers will return this outfit to the store at the start of these annual quests.
5. Curdle Scream Leader
This creepy skin looks like a modern gaming version of Frankenstein's Beast. It comprises many body parts borrowed from other popular Fortnite characters. You may have noticed that its head is made up of half a Cuddle Team Leader and a Tomatohead. Creepy, right? All other parts will also remind you of different top skins and cosmetic items. Given the uniqueness of this outfit, it would be a pity if it didn't show up in the store before Halloween, especially since the last time it appeared there was already last year.
We'd love to hear about your favorite Fortnite skins! Please share your personal top 5 outfits that are perfect for Halloween!